I love garbanzo beans (AKA chickpeas). There's something about them, I'm not quite sure what. We met back in the salad bar craze of the 80s, I'm not sure that I fully understood that they were a bean. Otherwise I probably would never have tried them; this kiddo looked on beans as unfriendly, alien territory. But Garbanzo beans are different, they're not bean shaped. They're friendly little spheres and they weren't all mushy or vinegary like the other beans at the salad bar. Years later garbanzo and I met again in another of its popular forms, hummus. It was love yet again.

Here is another of it forms, roasted. Roasted the garbanzo bean is like a nut, good for snaking or topping salads. This recipe comes from Bananas and Beans, I found it awhile back and just had to try it. Head over to their site for the details. A cloth towel worked a lot better for me than paper towels did (the paper kept falling apart and I had to use quite a few). For a 25 ounce can I used a ½ tablespoon of olive oil about a teaspoon each of salt, garlic powder, onion powder, curry, Italian seasoning and a few grinds of black pepper.
Bananas and Beans
It's an oldie, but a goodie…
If you are looking for a healthy dish that can be served as a fun and tasty snack, or a kid-friendly side dish, this is it!  We call them banzo nuts (remember, I have 2 toddlers), but they are actually just roasted chickpeas/garbanzo beans.  Tasty and easy, they provide a nice little versatile crunch, and are loaded with iron, protein, and fiber.  If you haven't already, give them a try!
Ingredients:
1 can chickpeas/garbanzo beans
about  a tablespoon olive oil
fine sea salt
additional spices (optional)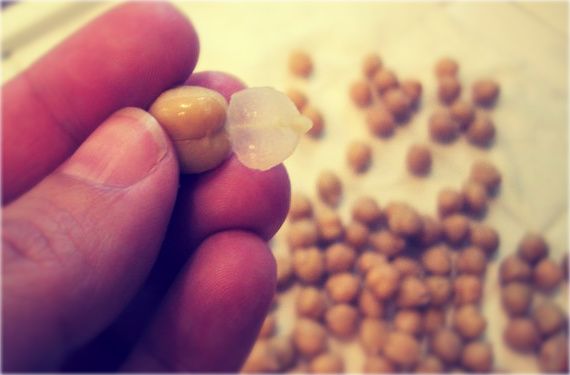 Directions:
Drain garbanzo beans.
Thoroughly rinse beans with cold water.
Lay a couple of paper towels on the counter, and then pour the drained beans on top.
Taking another paper towel, begin drying the beans, lightly rubbing them and removing the outer "skin" (as seen in the photo above).  If you don't get the outer layer removed from…
View original post 138 more words